Our Mission
Scarlett Rose was established in 2019 amidst the pandemic with a mission to provide the best possible herbal products for boosting immunity and fighting illness. We offer a wide variety of all-natural and organic herbal products designed to help boost your body's immune system, including our popular Immunity Boosting Elderberry Syrup.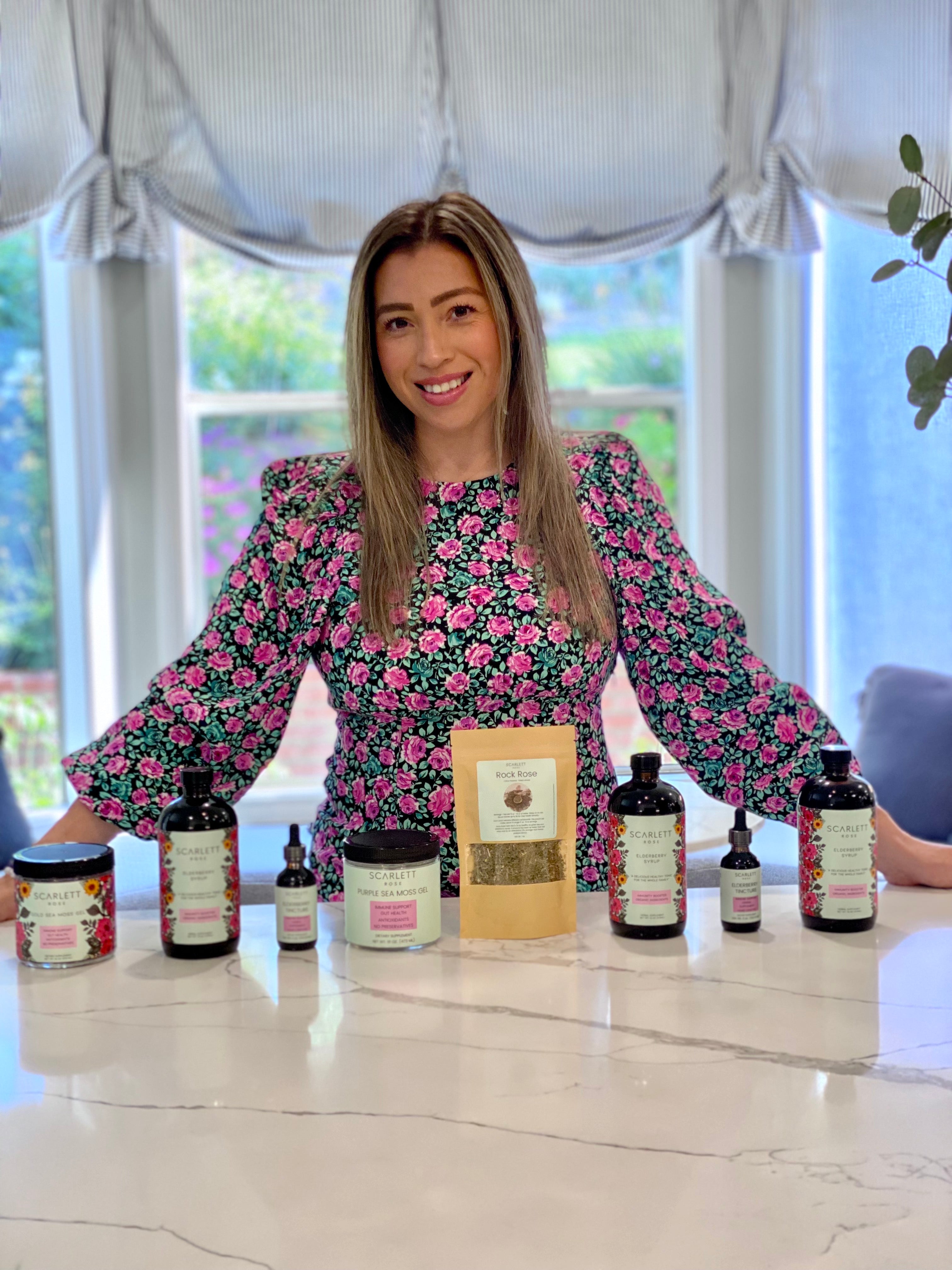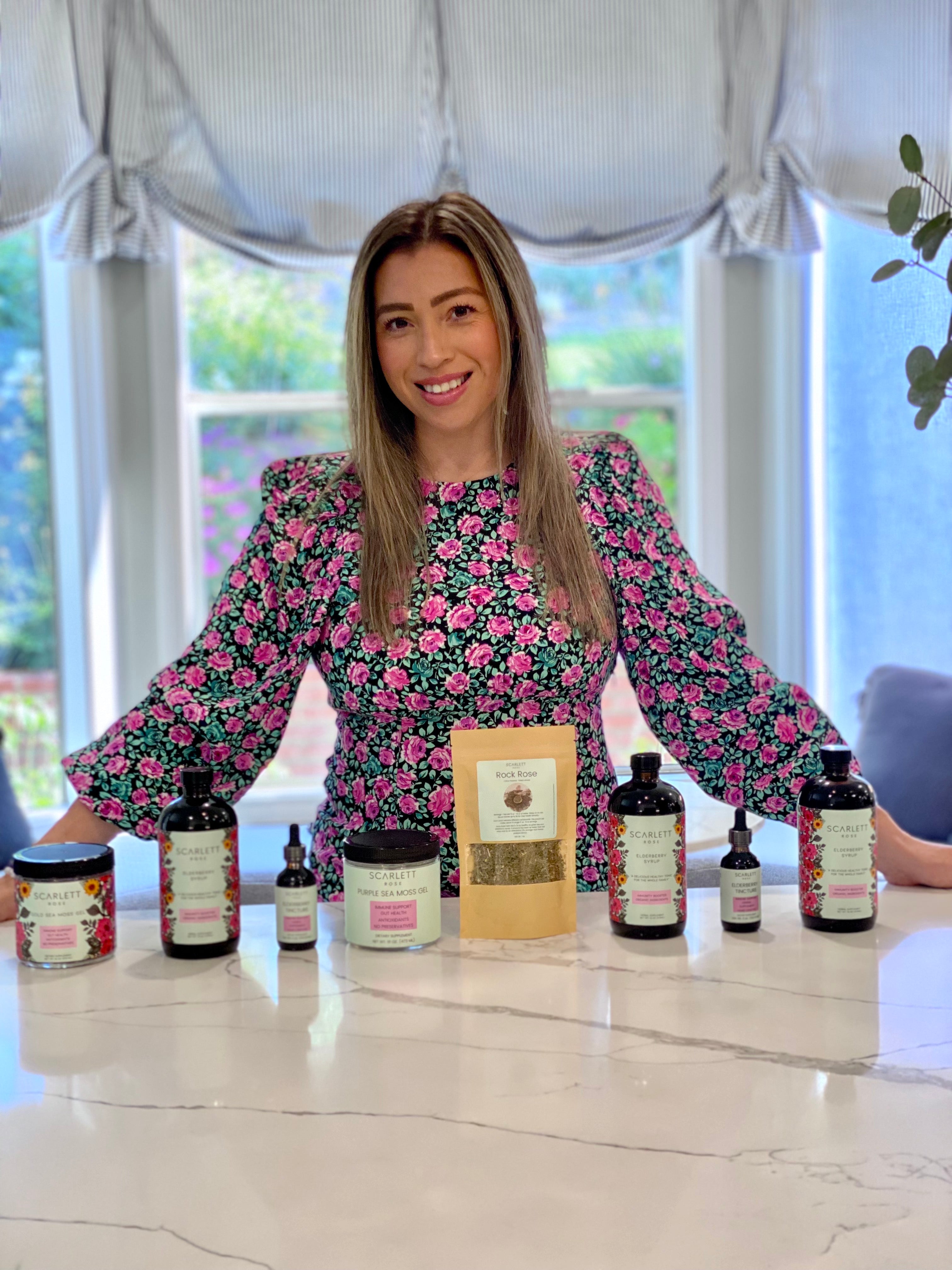 Meet the Founder of Scarlett Rose, Stephanie Garay!
Stephanie Garay is a mother of two and the owner and founder of Scarlett Rose, an herbal company that promotes natural healing.

Before embarking on her journey as an entrepreneur, Stephanie was a Realtor for Century 21 All-Stars in Pico Rivera, CA. She left her real estate life because she felt called to help people heal their bodies naturally through plants and herbs. And now with Scarlett Rose, she has found her calling: to inspire others to a new way of living by choosing nature over medicine whenever possible for treatment for themselves or their loved ones.

Herbal remedies are not just about relieving symptoms; they're also designed to nurture the body's entire system and promote long-term wellness!
Learn more
Scarlett Rose was founded in 2019 with a mission to introduce a New Way of Living through their Organic and hand-crafted herbal products. A New Way of Living means you have peace of mind knowing you and your family are consuming all-natural organic products made with the best ingredients and with love.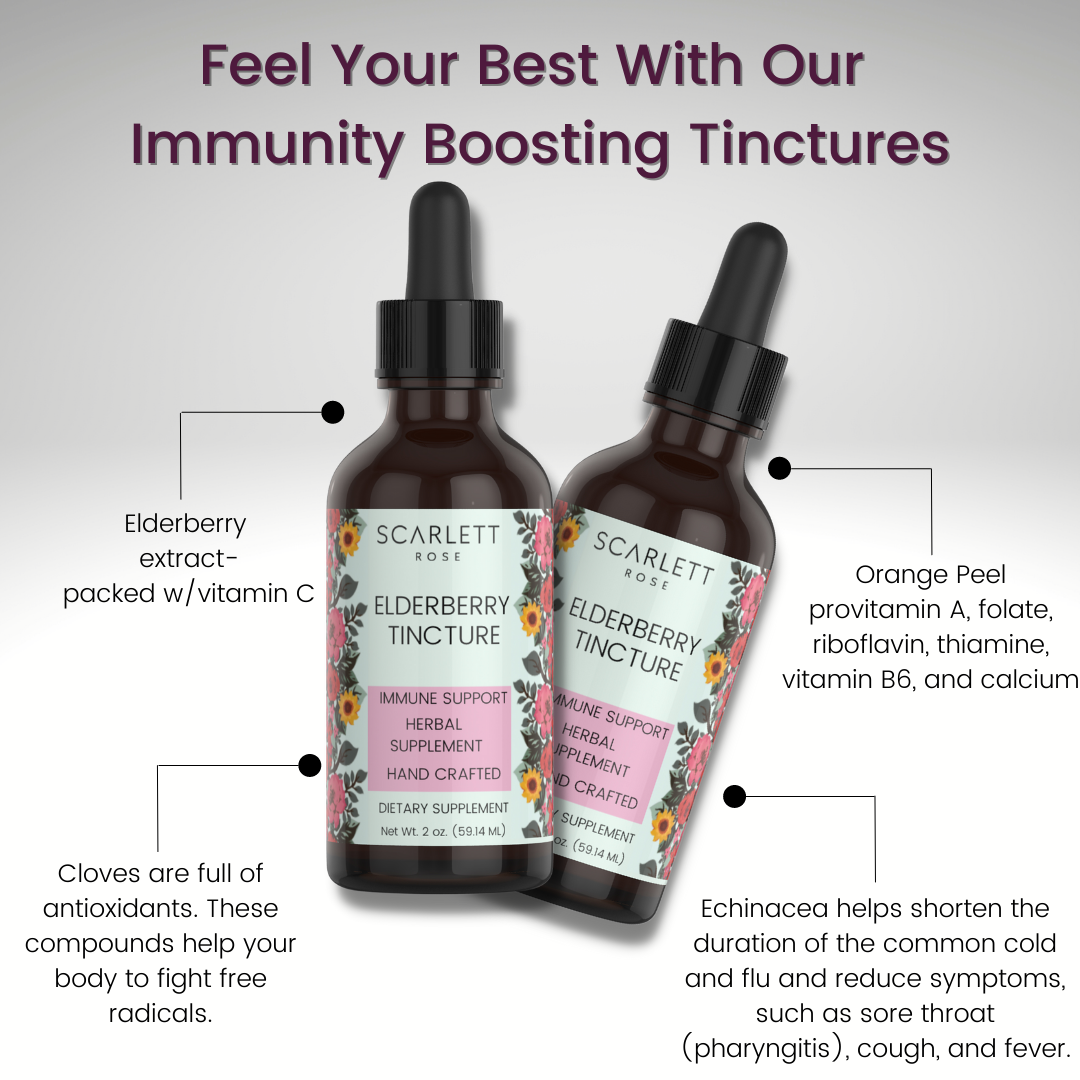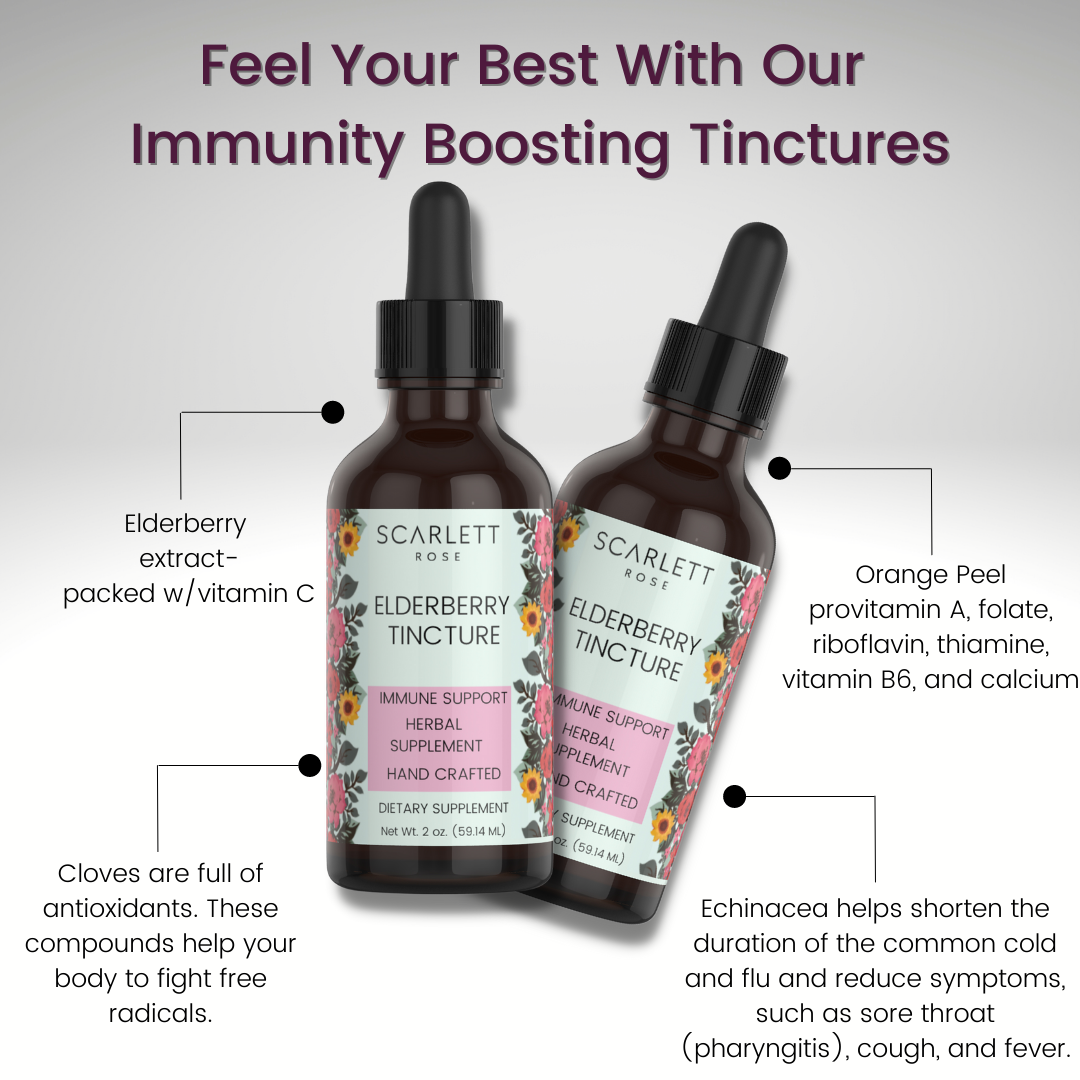 Elderberry Tinctures
The best time to consume this product is when you feel symptoms coming on- taking them too late can be ineffective because they need 24 hours before they can start working their magic!
PURCHASE
Cistus Incanus
Cistus incanus tea may help you feel better during cold season by preventing common colds, easing congestion, or reducing fever. Studies have shown that cistus incanus extracts are effective against bacteria such as Staphylococcus aureus and Escherichia coli (E-coli).Drinking cistus incanus tea may also relieve symptoms of depression or anxiety due to its ability to increase levels of serotonin in the brain. For these reasons, many people drink cistus incanus tea during winter months for relief from coughs, sore throats and the sniffles.
PURCHASE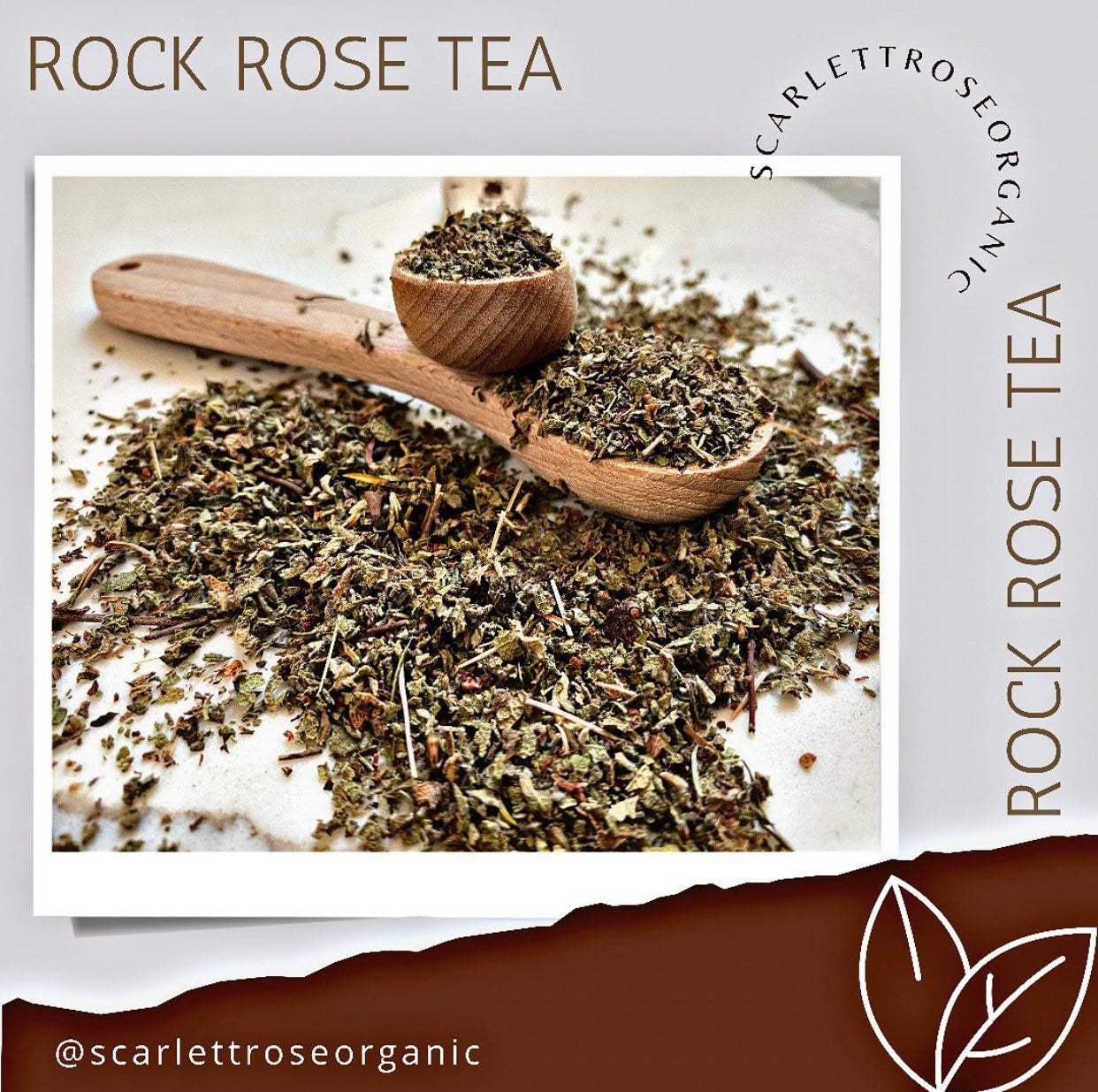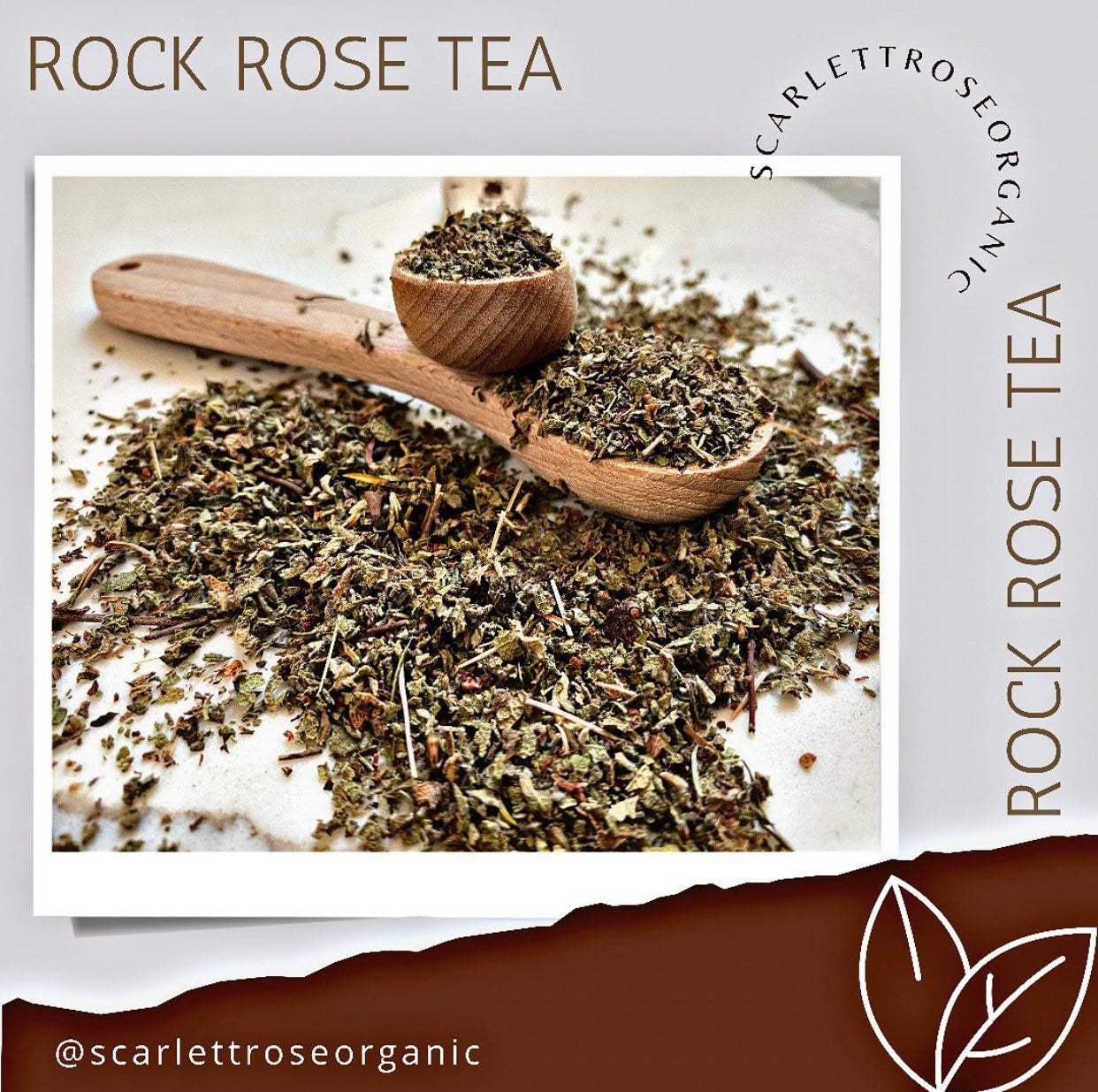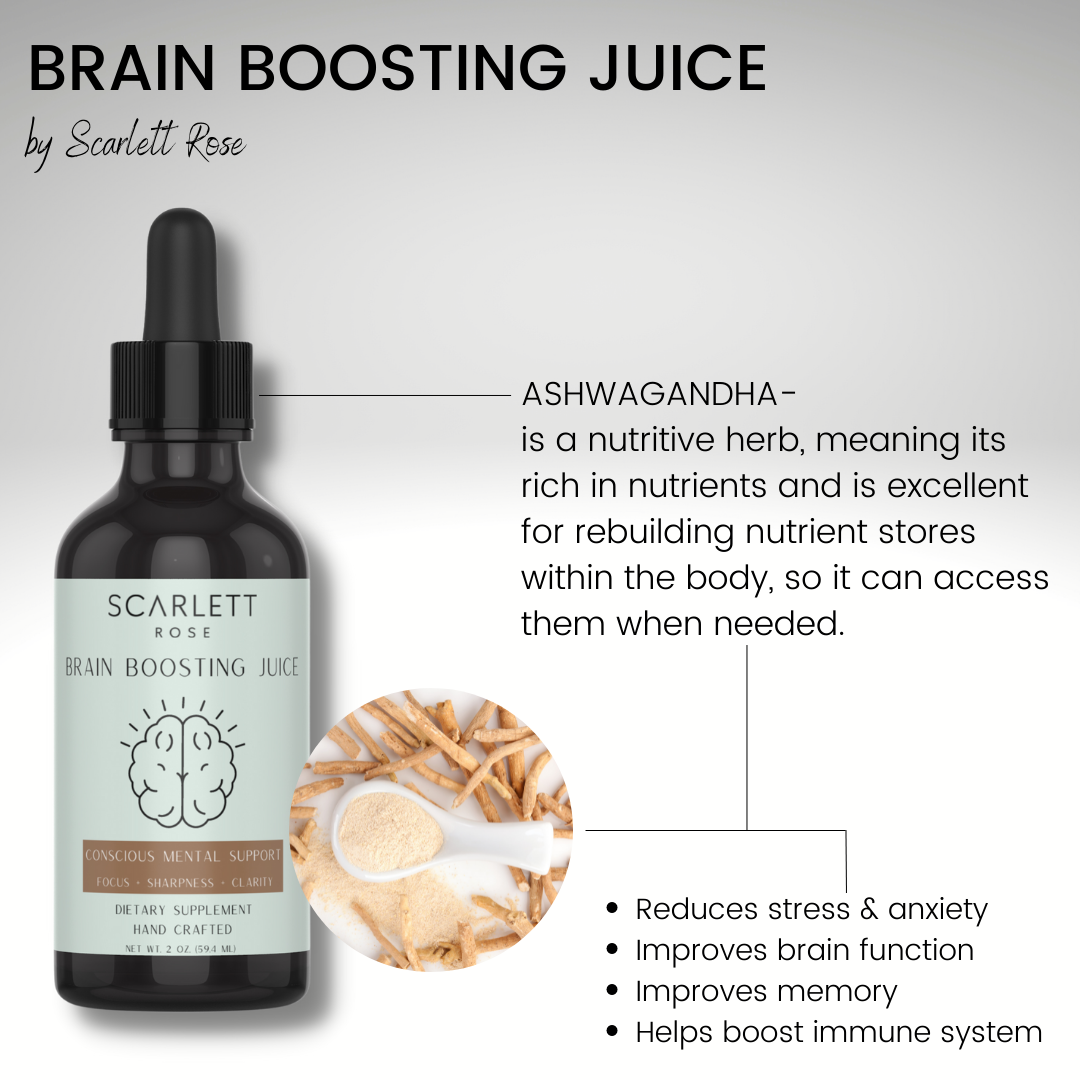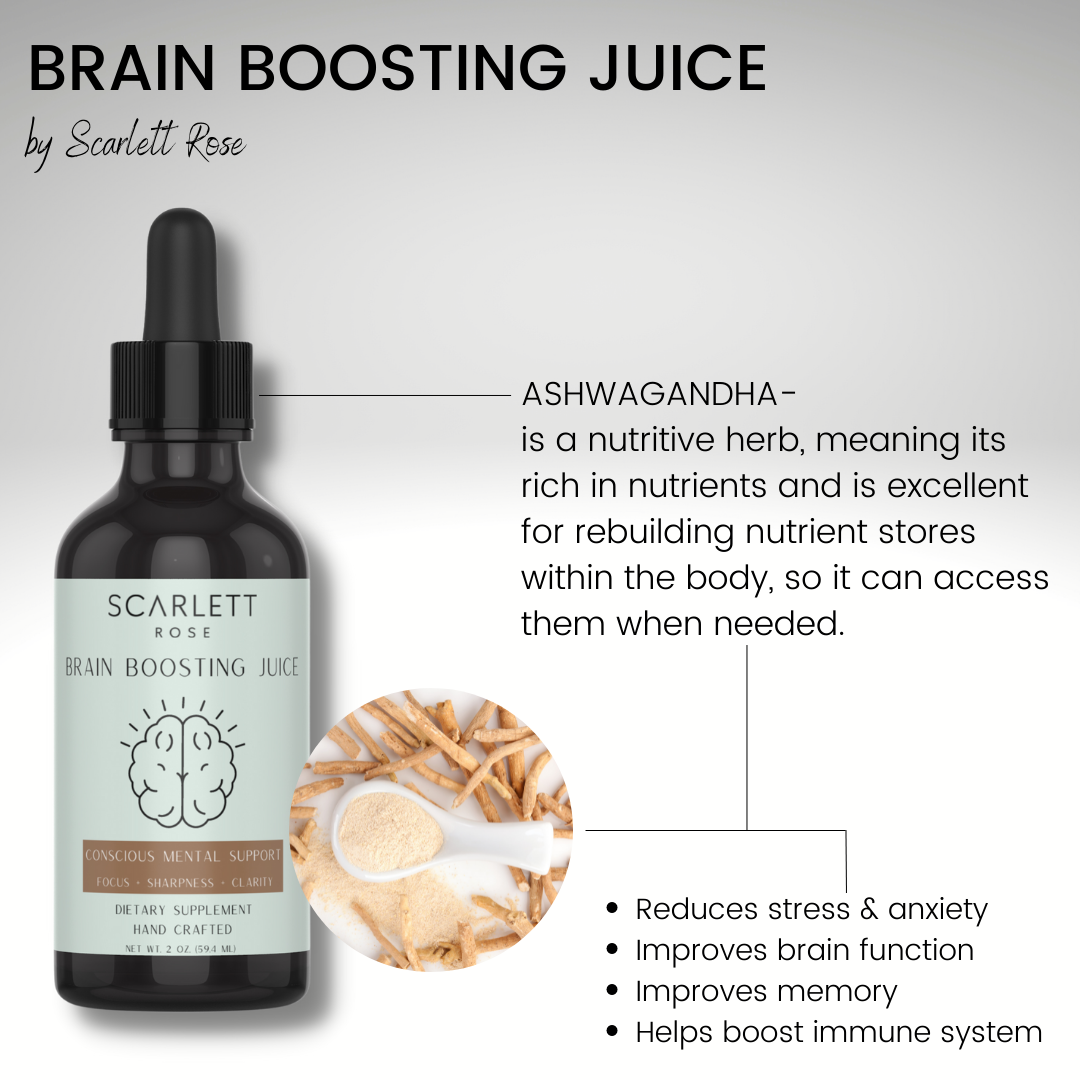 Brain Boosting Juice
It's great when your body is functioning at peak performance, not just for work or exercise but also to take in all the things that are happening around you. Your mind needs every instrument possible to process the world around you - delivering all of its vibrant color and activity. Getting complete clarity on what you're seeing, hearing, even tasting makes everything better. That's why Brain Boosting Juice includes ingredients like Ashwagandha, Gotu Kola, Nettle leaf, Guarana Nut, and Ginko leaf. All these herbs have been used by cultures across the globe for centuries because they knew firsthand how important their own minds were to them - Now it's our turn
Purchase
Sea Moss Gel For Menstrual Cramps
For many women, menstrual pain is a monthly reality. Cramps, bloating, and fatigue can make it difficult to get through the day.

Thankfully, there are a number of natural remedies that can help to ease these symptoms. One popular option is sea moss gel. Made from a type of red algae, sea moss is rich in nutrients and minerals. Some women find that applying a small amount of gel to the abdomen helps to reduce menstrual cramps. Others use it as a facial mask to help soothe skin irritations that often flare up during menstruation.

Sea moss gel is also said to boost energy levels and improve mood, making it an ideal remedy for PMS. If you're looking for a natural way to ease menstrual pain, sea moss might be the answer.
Purchase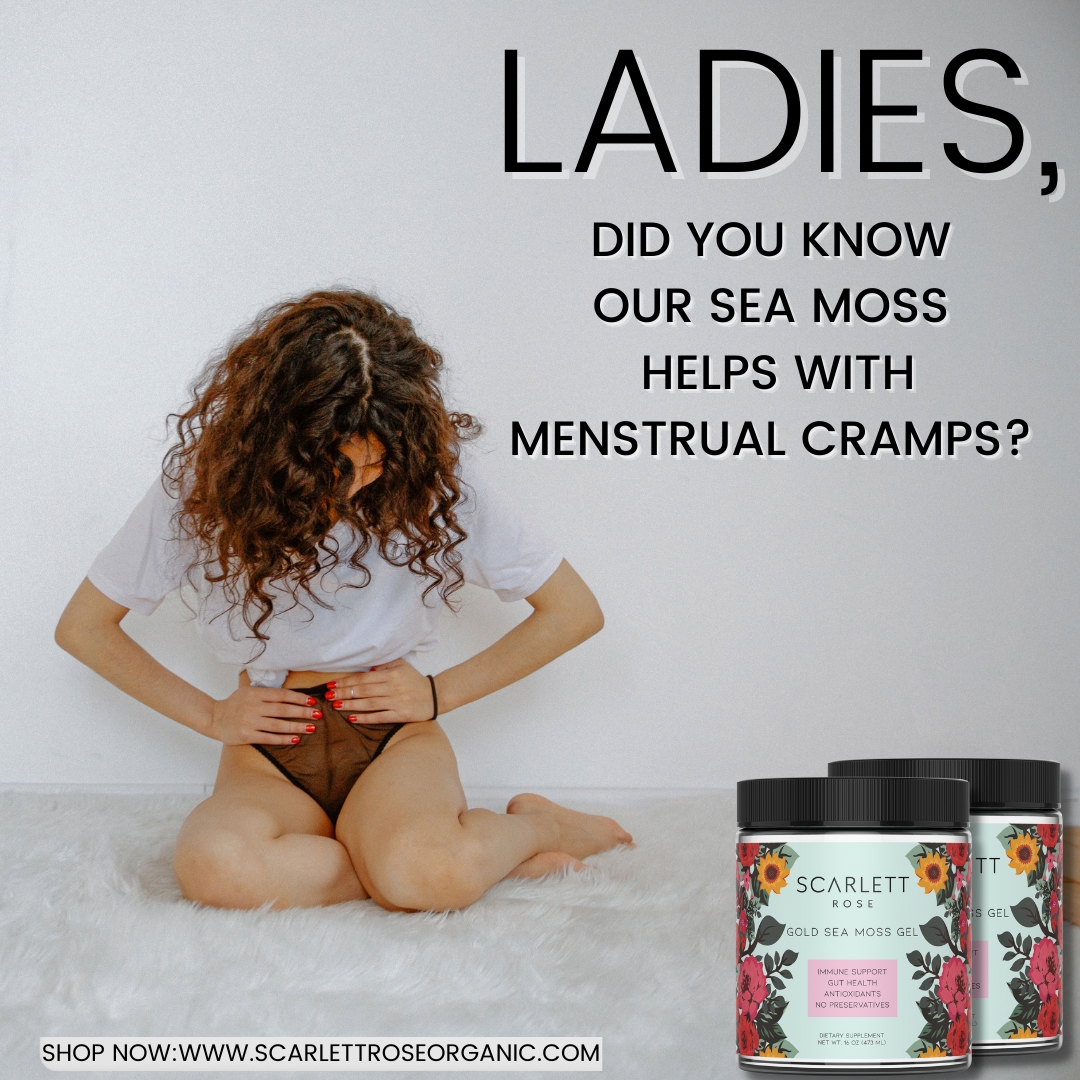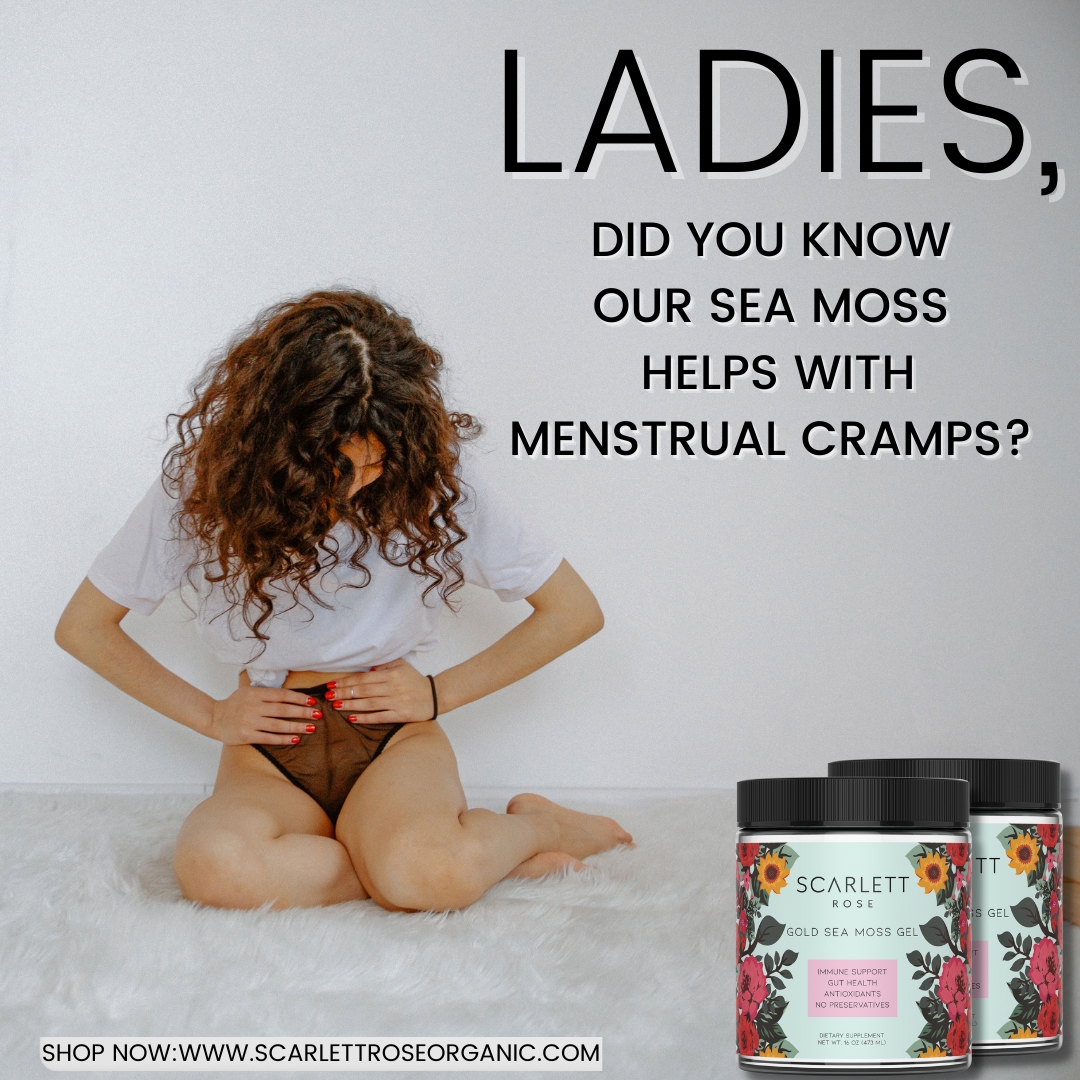 Testimonials
"So Yummy and need to order two more bottles right away."

SONIA P.- WEST COVINA
" Amazing! Can't believe I just heard of this! Feel great add it to my coffee every morning. "

Norma C. - WEST COVINA
"After applying it to my baby, her rash was gone in one night, I love this product"

MICHELLE A.- LA PUENTE
"I love strawberries and now combined with sea moss gel, wow! It is my new favorite sea moss gel"

Crystal A. - LA PUENTE
"I love it! It really helps you get more focused and it really kicks in on those long days now"

Victoria G. - WEST COVINA
" The capsules are a lot easier for me to take since I am always on the go"

Nancy P. - LA PUENTE
These statements have not been evaluated by the FDA and any and all product sold by Scarlett Rose are not intended to diagnose, treat, cure, or prevent any diseases.